I could honestly go on and on about this couple… I've known Kristine for about 10 years. I first photographed her while working at the Bellingham Herald when Kristine took over a historic iris garden on her family property in Deming, Wa. During that shoot we realized we attended Washington State University at the same time. Go Cougs!!! Kristine's family homesteaded in Deming forever ago and her family and extended family farm a good amount of the property there. Her parents have a blueberry farm in Deming so if you ever need some blueberries, go there! Over the years I photographed Kristine and her iris garden a few times and even went to hear her sing at the Wild Buffalo in Bellingham. We kept in touch once in a while on Facebook and I was SO incredibly happy to see that she was engaged to a wonderful (and handsome!) guy.
Fast forward to getting the phone call that Kristine wanted to hire me for her wedding. I never assume my friends will hire me and never feel bad if they go with another photographer, that's just business and friends are more important. I was not only so excited but incredibly blessed that they wanted me as their photographer. It was even more special when I learned that the ceremony would take place at the iris garden! During their engagement photos, Thad, who has a great eye, pointed out some cool spots for portraits, which I always appreciate from my clients, so I knew he would be a fun groom to photograph at their wedding.
The wedding day weather was iffy all week… and after photographing the ceremony site before anyone had arrived, the rain started… but, I have great luck with weather on wedding days (knock on wood!) and just knew the weather would clear up. By the time Kristine arrived to put on her dress, the rain had cleared. Yay! During the ceremony the light must have changed every 30 seconds from clouds to sun to clouds again. It was tricky but also incredibly beautiful. I can't help but think the Williams ancestors had something to do with the clouds parting as the ceremony started!
The reception was full of laughter and love. These two are truly special and it's very obvious just how much they love each other. Also, the salmon dinner catered by one of my favorite (and affordable!) caterers: Kelly's O'Deli of Ferndale, Wa.
I wish you both the best!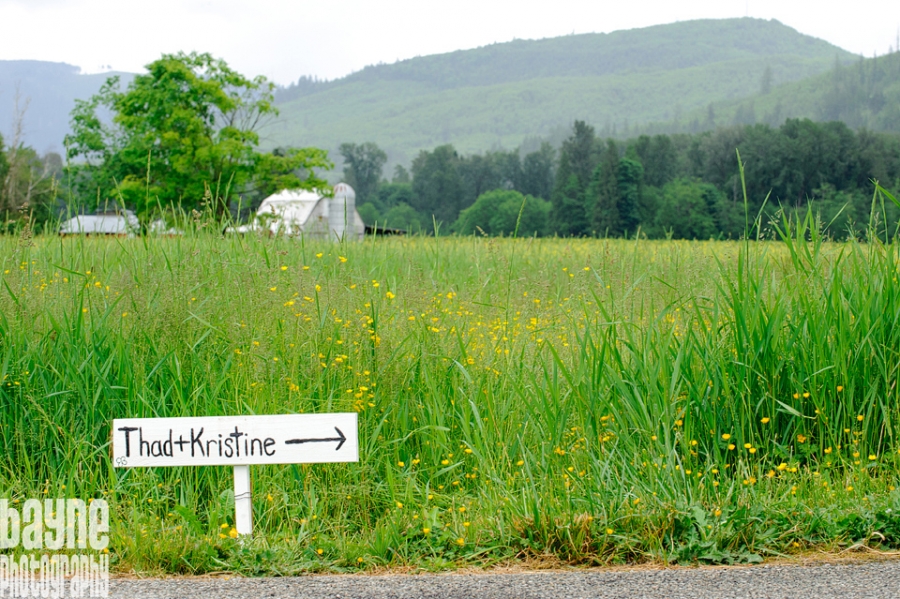 Kristine is on the phone with her brother who couldn't be there because of his duty with the United States Coast Guard.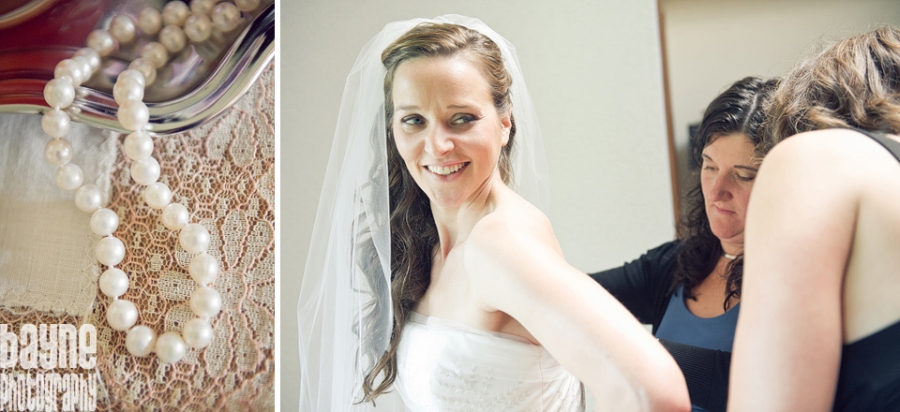 Thad seats his grandma, and his dad and Kristine's dad shake hands before the ceremony…



Moments before the start of the ceremony…

Who doesn't love it when a flower girl won't go down the aisle? Not even Goldfish could get her to go!

What a great dad! Best flower man ever!

This "flower dad" and his wife introduced Thad and Kristine…






Thad gathers flowers for Kristine's bouquet. Each flower represents a family member who couldn't be there, plus a flower from each mother.

As sweet as the photo above on the right is, Thad was supposed to give Kristine a red rose… you can see the tiny red rose on the bottom left of the bouquet, and then in Kristine's hand on the right.

This was extra funny because Kristine teaches agriculture at Ferndale High School…

The complete bouquet…

Saying a prayer…









Thad wipes away tears as the ring bearer is about to give him the rings…

Thad also had a little trouble getting Kristine's ring untied… thankfully if he hadn't been able to do it, Kristine had a pocket knife under her dress…




So cute!!!

Celtic handfasting, which is where we got the phrase "tying the knot."



Going in for the kiss!






They did it!

The moments just after the ceremony are always my favorite… especially when the couple hasn't seen each other all day…





I'm not sure what led to this hilarity, but I'm glad I was there to catch it…

The Stump House!

One of Kristine's ancestors lived in this stump for a time…

Kristine's aunt gave her this pocket knife… she was also the former caretaker of the iris garden.



Just a funny moment between portraits…

So glad one of Kristine's friend's parked his vintage truck there…




We then went to Taylor Dock in Bellingham for a few photos where they had their very first kiss!


Thad likes to put his hand over Kristine's heart…



Such a fun idea for a guest "book," plus lots of fun handmade details…
















Thad's brother… who was not excited to hear that all of Kristine's brothers are taller than him!


This is the look on Thad's face as he realized Kristine had a surprise for him… she wrote him a song and played it for him…

She is so talented…





Wiping away more tears…







Kristine's nephew…