I was absolutely thrilled when Ben contacted me to photograph his and Jelena's wedding at Evergreen Gardens north of Bellingham, Wa. Ben was an photo intern at the Bellingham Herald during my six-year tenure at the newspaper. He and Jelena met working for Western Washington University's school paper, The Western Front… apparently in their first newspaper meeting, Jelena day dreamed about dating Ben. Ben figured Jelena was out of his league but they ended up falling in love! After they graduated, he and Jelena moved to San Diego and I hadn't seen them until their wedding day.
Jelena looked amazing in her form fitting dress and Ben looked so handsome in his suit. I still think of Ben as a college kid so it was crazy seeing him all grown up and marrying an amazing woman! They used some of Ben's photos (and a couple that were taken of them) as table numbers… guests found their name card and matched the picture on the back of it to find their table. There was a chance of rain so Jelena rented one of a kind umbrellas from Bella Umbrella in Ballard… of course it didn't even come close to raining, but they made from some fun photos!
The wedding party was fun… the guests were great, the food by North Pacific Catering was extremely good…. Ben and Jelena did a great job planning their wedding from San Diego.
Ben and Jelena: Thank you for inviting me to photograph your wedding… I wish you the best of luck and lots of super adorable babies!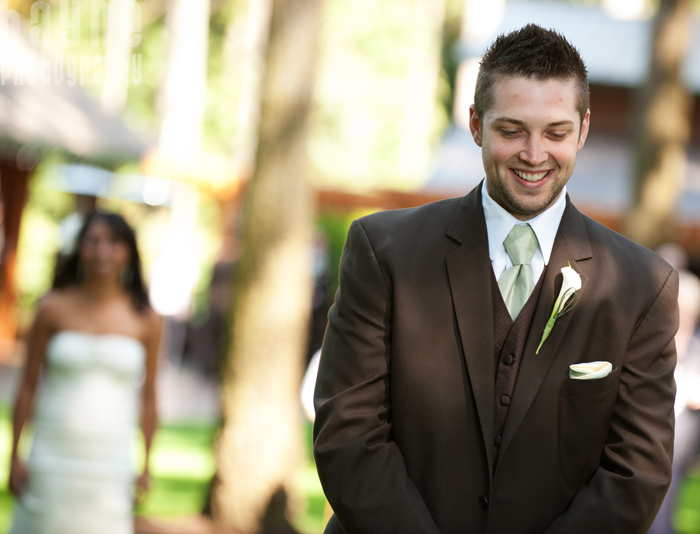 I love this sequence of Ben having Jelena turn around so he can check out her dress…



Check out the umbrellas!




Escort cards…



Ben gets choked up during the vows…

Jelena says her vows…





I love this shot of Ben and Jelena right after the ceremony… I was hiding behind some trees to capture some intimate shots of them.


Ben gets ready for the cake…












No wedding is complete without Michael Jackson's "Thriller…"


Everyone turned into zombies at the end of "Thriller."

Evergreen Gardens… one of my favorite venues in Whatcom County…